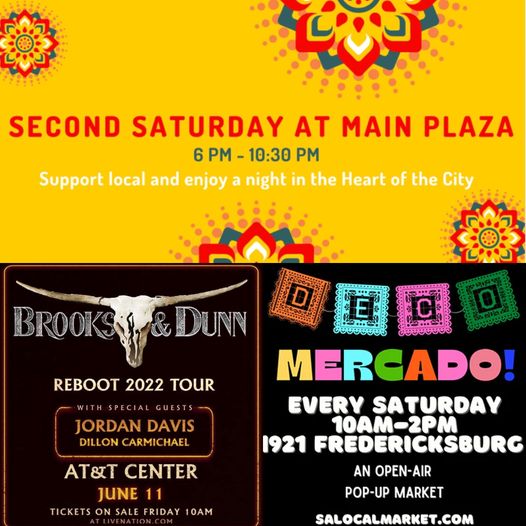 Happy Thursday!
Don't have weekend plans just yet!?
Take a look at what's happening around town in San Antonio this weekend!
Second Sunday at Main Plaza
Featuring live music and local vendors, you're sure to enjoy yourself. Grab a craft beer from Blue Star Ice House, a hot dog from Texas Dawgz, or an agua fresca from Poblano's on the Plaza! And stick around for San Antonio | The Saga! Showing at 9:00 PM, 9:30 PM, and 10:00 PM.
BROOKS & DUNN
Brooks & Dunn will return to the arena for the first time in over a decade. Jordan Davis Will Join Brooks & Dunn For their San Antonio Show. Tickets go on sale tomorrow at 10am.
June 11, 2022 at 7pm
The Deco Mercado
A pop-up market that includes some of San Antonio's favorite and most popular makers, artists, and small business owners. Rain or shine. 25 local vendors to shop from, Food Trucks, Family and pet friendly. Free and open to the public.
Saturdays, 10 a.m.-2 p.m