When Considering Moving To San Antonio, Texas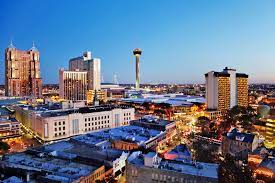 If you don't like hot things you might want to stay put.
Bill Miller's is a quintessential eating. We know it's not the best BBQ & we don't care cause we can feed a family of 5 for $20 & it's better than cheap burgers.
Margaritas, The official beverage.
We don't like being compared to Austin, WE'RE BETTER.
Dallas folks are "Yankees".
A "Taco" doesn't necessarily mean ground beef in a crunchy corn shell. Its anything stuffed into a 10″ flour tortilla. So, you should say "crunchy" if that's what you mean or "burrito if you want bigger & rolled up. We eat tacos 24/7, literally. Breakfast (chorizo & egg), lunch (bean & cheese), dinner (fajita), late night snack (potato & egg). Just ask the guys at Chacos at 2am!
The last two weeks of April are city-wide holiday. Don't expect to get much done. Refer to FIESTA for more information. Oh what fun!
"San Antonio" – not "San Antone" – regardless of what John Wayne says.
If you don't like the SPURS, you will.
We love our military even more so be extra nice when you see them all over town. Any buy them a taco if you can.