A home warranty is much different than homeowner's insurance. This chart from American Home Shield explains it best: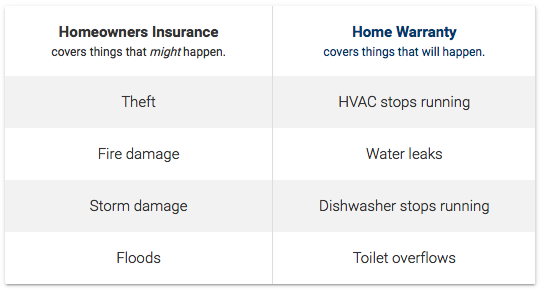 Every policy is slightly different depending on which company you choose. It usually ranges from $400-$700 for a one-year plan. These standard plans help cover damages from every day wear and tear on appliances and component systems, like plumbing, electrical, and HVAC. There are options to upgrade to premium or additional coverage for extra appliances, such as a wine fridge or to cover pre-existing conditions as well, it all varies depending on the company you choose.
"So, what do I do when something breaks?"
You call your home warranty company, who will send someone out on a service call. There may be a small fee associated, but with most companies there are no additional fees to repair.
If the item cannot be repaired, it is replaced with one of similar value and likeness.
"How do I buy a home warranty?"
Sometimes we negotiate for the seller to pay for the home warranty, even though the seller pays, you get to choose the company.
If it was not negotiated as part of the contract, then you can decide if you would like to purchase one. Do your research and get quotes from several companies, just make sure you choose one before closing.